Along with Hanoi, Ho Chi Minh City, Hoi An, Sapa is an other attractive, charming destination in Vietnam. If you love exploring the new places and want to escape from the crowded life of the urban areas, you should come to Sapa. Unlike the noise of the cities, Sapa appears in front of your eyes with the wild and quiet beauty of the northwest of the forests. To have a private space for yourself to enjoy the life, let join our best trips from Hanoi to Sapa, definitely, Sapa will make you surprised with a series of unique experiences.
The best time to get to Sapa is often from March to May and from September to November. March and April are the time of the spring. The ethnic people in Sapa often plant rice in their terraces. To sightsee the sparkling colors of the terraces in the warm spring mornings is really a wonderful experience for you. Especially, spring is also the time that many flowers blooms such as peach blossoms, apricot blossoms, plum blossoms, etc. September and October is the time of the autumn when people here start to harvest the rice. The yellow of rice in the terraces always pull back the soul of any tourists reaching to here in this season. From December to February, at this time, Sapa is really charming with the nice white snow as flowers blooming on the trees and the ground. If you do not come here to see it even once, that's a pity for you, because Sapa is the only place having snow in the winter. The images of snow in Sapa are always an endless inspiration of the photographers, writers, poets as well as the tourism lovers.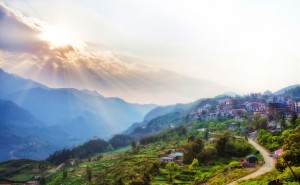 There are a lot of famous beautiful destinations in Sapa that you should not ignore when coming here. If you love adventurous journeys, try to conquer Fansipan Mount, the rooftop of Indochina, which located on Hoang Lien Son mountain chain, also known as the highest mountain of Indochinese Peninsula with the height of 3.143m. Although Fansipan Mount is about 9km from Sapa Town, it will take you some days to climb up to the top of this mountain. This mountain attracts a lot of tourists, professional climbers and explorers in Vietnam as well as all over the world.
Now, many tourist companies often organize the tours to conquer this famous mountain. Another special thing is that you will have a chance to discover the beauty of nature and a various system of fauna and flora along the path. Join this trip to become the winner! These tours to the top of Fansipan will bring you the interesting experiences. The secondary destination in Sapa is Sapa Stone Church. This church is located in the center of Sapa Town and a place maintaining a lot of cultural and spiritual beauties of the ethnic minority people in Sapa for a long time. This is an indispensable destination in your Sapa tourism map. Next, you should not forget to visit Cat Cat Village, an ancient village of Mong ethnic people. Located about 2km from Sapa Town, this village attracts a lot of tourists to drop in every year. Moreover, this village now is built and developed to be Cat Cat tourist area, a traditional destination for everyone. Cat Cat also keeps many traditional handicrafts such as weaving fabrics, planting cotton, etc. In addition, you can also visit some other villages such as Ta Phin Village, located about 17km to the east of Sapa Town; Lao Chai Village of H'mong ethnic people, located about 7km to the southwest of Sapa Town; or visit Muong Hoa Valley – Sapa Ancient Rock Field, Thac Bac Waterfall (Silver Falls), Heaven Gate, and Ham Rong Mountain, the new wind flows for your trip.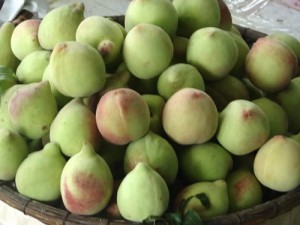 Moreover, Sapa is famous not only for the natural beauty of the forests and the wonderful climate, but also for the unique food of the northwest forests.
"Com lam", "bamboo cooked rice", is a famous rice dish of the ethnic minority people in the Northwest of Vietnam. "Com lam" is cooked by sticky rice and grilled in the bamboo tubes. This dish is cooked by pressing the wet sticky rice, some salt and spring water into the bamboo tubes. This special dish is very delicious and popular; especially people are attracted by the impressive flavor of the sticky rice, spring water and the sweet smell of bamboo.
Coming to this misty land, you can catch the image of colorful "xoi" baskets sold in the market. "Xoi" has 5 colors: green, red, violet, yellow and white. The Tay ethnic people cook "xoi" in very special way. They make "xoi" from sticky rice mixed with some types of leaves in the forest to create the attractive colors of "xoi". For example, the red of "xoi" is from gac fruits; the green is from the leaves of ginger or grapefruit peels; the yellow is from saffron; etc. The colors of "xoi" is created by many different types of forest leaves that are unharmed to people.
Next, peach is a familiar type of fruits to us, however, Sapa Peach is special. Why is it such special fruit like that? As you know, the weather in Sapa is extremely cold in the winter and cool all year round, so it's a good condition to plant fruits, especially peach. Sapa Peach is both sweet and a little bit sour that creates its unique flavor. Coming to Sapa, you not only enjoy this type of delicious fruits, but also have a chance to visit the peach gardens and sightsee the smooth beauty of peach blossoms, especially in the spring. Peach is the precious gift that the nature gives Sapa.
Especially, "Thang co" is an extremely special dish of Mong ethnic people, sold in almost the villages and markets in Sapa. It is made from horse meat and 12 types of spices. People often enjoy this dish with many types of vegetables. Especially, when combining with drinking corn wine, it creates a wonderful and unforgettable flavor.
This is a special type of chicken of Mong ethnic people with black skin, bone and meat. The black chicken meat is steady, delicious and crisp. This type of chicken is proved to be good for health, especially your heart. Sapa black chicken is grilled with honey and eaten with the peppermint leaves dipped with salt in a mixture with pepper and lemon.
When coming back from somewhere, people often buy gifts for their family or friends as a memorial item. It will be extremely experiences for you to look in the souvenir shops in Sapa.
There are so many types of products sold when you are visiting streets or walking around local markets in Sapa such as clothes of the ethnic minority peole; hand-made items including bracelet, scarf; silver jewelries or handicrafts. All these items are made by the local peopleand sold in many shops along the streets in the center of Sapa Town. Indeed, with various shapes of scenes and styles in 4 seasons  and lot of magic, charming places to enjoy, Sapa is deserved to visit all time throughout a year.