"Top Things To Do in Sapa –  Do you know ?" This is the title of today's content we want to share with travellers.
This post is intended to provide suggestions for travellers about interesting activities in Sapa.
So if you are looking for a trip to Sapa Vietnam, "Top Things To Do in Sapa –  Do you know ?"  is a post very useful for you.
Top Things To Do in Sapa –  Do you know ?
1. Trekking throught hill tribe's village in Sapa
Although you can catch a glimpse of the scenery from a comfortable chair in Sapa town, it's only when you explore further afield that you really get to experience and appreciate all that this region has to offer. And there's no better way to explore Sapa than trekking.
A trek through the surrounding rice fields, forest and ethnic minority villages can create memories that last a lifetime, not to mention an overworked camera.
With this experience, you'll find yourself being surrounded by cascading rice terraces, endless greenery and amazing fresh air. Most of the ethnic minority people work their land on sloping terraces since the vast majority of the land is mountainous. Once you've stepped out into the lush fields, you'll understand the Sapa area's real charm.
To meet the aspirations of many visitors when come to Sapa, we have selected certain trekking routes from dozens of trails so that to bring the most beautiful scenery into your lens with a lot chances to visit tribal villages and meet Sapa's tribal peoples at homes and at works. And after all, we promise that your trip will be full of fun.
Here are some our Sapa trekking tours from easy to hard. You can completely refer and choose for yourself a package tour appropriate for yourself: http://sapatoursfromhanoi.com/tour-category/sapa-tours/sapa-strekking-tours/
2. Ride a bike to Muong Hoa Valley
Muong Hoa Valley is a stunningly beautiful stretch of land lying at the bottom of Fansipan'snorthern flank. There are many green paddy fields stretching to the horizon and dotted with different minority group's villages.
Instead of trekking you can also join this valley exploration tour by bike.
If you already make a trip to Muong Hoa Valley, you cannot miss the chance to experience the beauty of terraced rice fields voted as one of seven most beautiful and impressive ones of Asia and the world by readers of the UC's magazine Travel and Leisure and visit Cat Cat village is a typical village of ethnic minority.
 3. Visitting & shopping at ethnic minority markets 
Some of the most rewarding and memorable moments you will have during your time in Sapa, Vietnam will occur while visiting & shopping local ethnic markets.
Markets differ greatly accross Vietnam, from the water markets of the Mekong to the hustle and bustle of Hanoi's old quarter, but nowhere are they as diverse, nor as interesting, as they are in the mountains of Northwest Vietnam.
So, whether you are here for a day or a week, please do not miss this exciting experience.
In Sapa, these markets gather only one time per week and they offer its variety of local products, which could not be found in others areas (Bac Ha market & Muong Hum market on Sundays, Coc Ly market on Tuesdays, Lung Khau Nhin market on Thursdays & Can Cau markets on Saturdays only). Therefore, consider carefully your trip to be able to join one of these markets.
Joining one of these markets, you will quickly absorbed by festive atmosphere and understand the important role of these markets in spiritual life of local ethnic peoples. And if possible, you can book a Bac Ha Market Tour – 2 days of us. Because Bac Ha Market is one of the biggest and most famous ethnic minority markets of Sapa.This is also a tour package that many of our tourists love to choose.
4. Overnigth at homestay of local people
Overnigth at homestay of local people. This is really an excellent experience that you will always treasure. Travelers are offered to share the house with the local residents, who are a part of the ethnic minorities in Vietnam. You will have chance to know more about their authentic lives, cultures as well to try some traditional dishes and of course, enjoy the comfortable stay.
There are a lot of Vietnamese Typical Tours tourists are happy with one overnight at homstay  in Sapa and they said that this is really a meaningful night in Sapa, they know a lot more about the lives of the people here.
5. Climbing to conquering Fansipan Mountain with a night camping at the tent.
The Hoang Lien Mountains surround Sapa and include the Fansipan Mountains which are connected to this chain, reaching thousands of feet and creating the tallest pinnacle in Vietnam with height 3143m as the "Roof of Indochina".
Reaching this Indochina roof after overcoming difficulties may not just give you the absolute victory feeling but certainly bring you with breathtaking natural scenes, spectacular beauty of clouds on Hoang Lien Mountains and cultural life moment of ethnic minorities in the Northwest area. So, why not you try ???
With the journey climbing to conquer Fansipan mountain, you can will have an experience camping with a overnight in a tent. Dinner is cooked on the campfire. Ready to unwind from the day, you will find yourself sleeping soundly, while nestled in amongst the rugged beauty of the mountains.
Note: that you should not join this journey alone because it is very dangerous. So it is best to choose a reputable travel company. They will accompany you as well as ensure your safety during the trip. 
6. Barbecue – one of the street food in Sapa definitely have to try
If you are looking for some good food, Sapa won't disappoint you. Many delicious dishes are served at hotels and restaurants around the town. Wandering along the streets, you will have chance to discover the great street food there. One very well known dish named "Barbecue" is something you should try once when you travel to Sapa.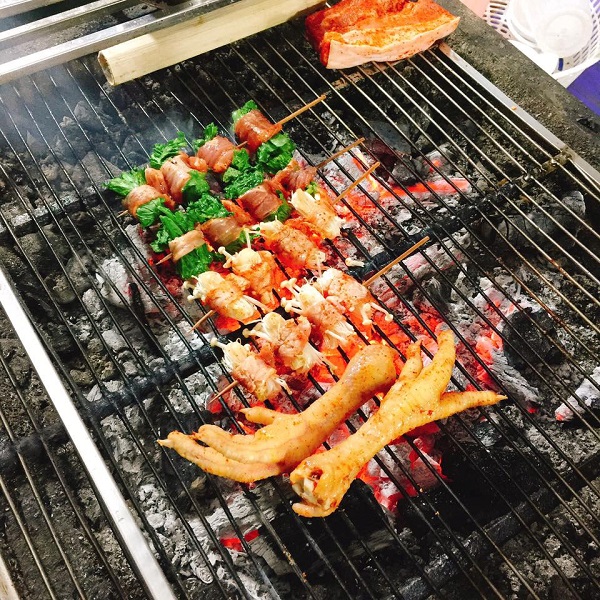 There is countless number of grilled dishes here that you could not have enough room for the stomach to try them all. From the very simple food like potatoes, cassava, eggs, chicken wings… to other more complicated dishes with the typical Northwest flavors like the Rolled beef with Meo spinach, stream fish, or "com lam"… everything seems to blend in perfectly that create an unique taste of Sapa.
Hopefully our post will be useful to you. Do not forget to regularly follow our website to read the best posts about Sapa tourism and travel to famous destinations in Vietnam.