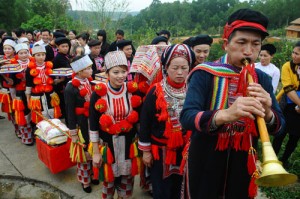 The Dao, known as the Man or Yao in south-west China for centuries, also number a few tens of thousands in Laos, Thailand and Myanmar (formerly Burma).
The Dao-Mien settled in Vietnam two to three centuries ago, depending on the area. One of the Dao's specific cultural features is their traditional writing system using Chinese characters. Preserved texts make it possible to trace their origins back to the provinces of south China. Their taoist religion is also based on texts. For major taoist ceremonies, the ritual space must be surrounded with painted pictures of the divinities and celestial generals. As a consequence, the art of painting on paper and canvas survives among the Dao. Like the Hmong, the Dao build terraced paddy-fields irrigated by a sophisticated system of canals around Sa Pa. They also have a reputation for pig and horse breeding.
The different Dao groups from the Lao Cai province usuall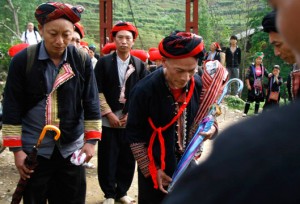 y wear red headdresses or red pieces of clothing. The Dao (Ké Mien) from the Taphin and Tavan villages (Sa Pa district) wear flat headdresses, totally red, hung with silver coins. The headdresses of the Dao (Ké Mien) from Muong Hum district (north of Sa Pa) are cone-shaped and made of red flowery material. The Bac Ha (Ké Moun) Dao enhance their turbans with red and pink wool or silk threads. The headdresses of the Dao (Iu Mien) from Van Ban district – south of Sa Pa – are decorated with red and yellow pompoms, and hang low down their backs.