Fansipan cable cars make it way easier to conquer the top mountain of Hoang Lien Son range.
Fansipan peak is now for everyone! – Conquering Fansipan Mountain, "The roof of Indochina" now easier than ever. With a cable car system just opened, you have only 15 minutes to the top.
Fansipan Mountain is 3.143m high, located in Lao Cai province. Fansipan is the highest mountain of the Indochinese peninsula. It is located in the center of Hoang Lien Son range. Fansipan is away from Sapa town 9 km to the southwest.
Fansipan Mountain has always been a meeting point for many climbers, adventurers and many visitors love conquer nature.
Many people say they never thought of climbing to the top of Fansipan. As the climb is real tough and it takes a few days to get to the top, even for the most experienced climbers. It requires good preparation of gears, health condition and urge to conquer. Therefore conquered Fansipan Mount is challenging and dream of many people.
Conquering Fansipan Easily By Cable Car System
Now with the brand new cable car system there is even more reasons to choose Sapa for your Vietnam holiday. 
>> Book imediately Conquering Fansipan By cable car tour with us right here. Only 8 slots with 10% discount for this November. <<<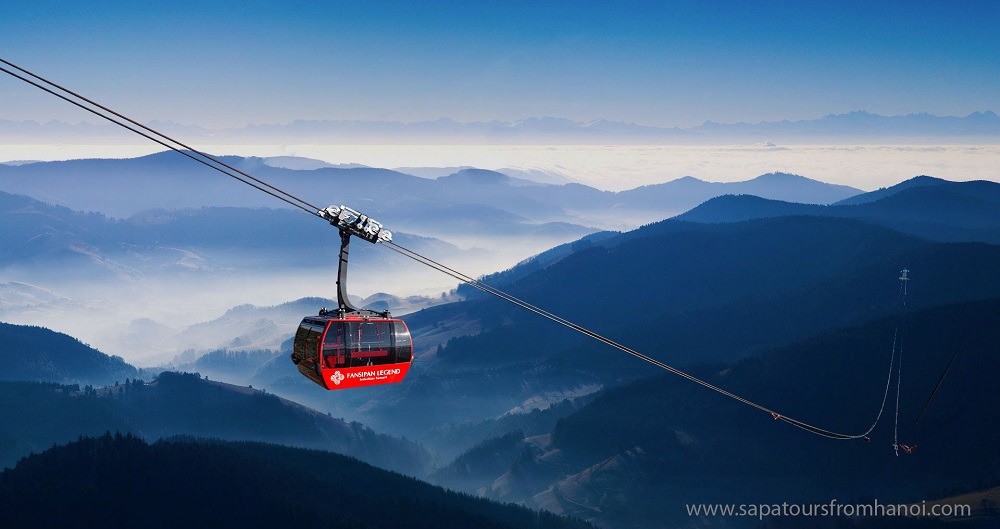 Fansipan Mountain Cable Car System
1. What's so special about Fansipan cable cars?
While experiencing Sapa cable cars tourists will love the feeling of soaring through the clouds, leisurely enjoy the magnificent scenery and picturesque view of Muong Hoa valley and Hoang Lien Son national park along side with the striking peak of Fansipan the top of Indochina at the height of 3.143m above the sea level.
Sapa cable cars have been awarded by the Guinness World Record Organization for these 3 following:
– The longest nonstop 3-rope cable car system in the world.
– Greatest elevation difference by nonstop 3-rope cable car system in the world.
– Transport capacity: 2000 guests/ hour
2. Operation time
Due to the operate time of Fansipan cable car from 7: 30 to 17:30 daily, it will be difficult to catch sunrise or sunset on the top of Fansipan.
However, manage to be here at noon, when it is less foggy, vibrant sunshine with cool breese, thus helping you have great time here to enjoy the stunning landscape around and having the best photoshoots.
3. How to get to Fansipan from Sapa town?
3.1. From Hanoi to Sapa
There are many different ways from Hanoi to Sapa travel such as motorbike ride, bus ride, car rental or train ride.
Taking a coach and train to go to Sapa is the most popular choice. Traveling by train takes about 8-9 hours and it only stops in Lao Cai. It then takes 1 hour to get to Sapa from Lao Cai station. The train often departs at between 8:00 pm and 10:00 pm, and you can catch a good night before getting woked up by the beautiful mountain scenery at dawn. Ticket for single night train is about VND 600,000.
Thanks to Hanoi – Lao Cai highway, the journey by coach to Sapa has become safer, more convenient and much faster. You can choose some companies to offer the best service such as Sapa Express bus… It will take about 5:30 'to take a coach to the town center of Sapa.
3.2. From Sapa to Fansipan
Fansipan cable car station is located in Fansipan Legend tourist area placed about 3km from Stone Church – Sapa town center.
You may catch a taxi or walk to the cable car station.
It's a walking distance so you can easily walk for about 30 minutes to get there. From the Stone Church- Thac Bac street- Nguyen Chi Thanh Street- Fansipan Legend Complex. There are road signs on the way and you can easily get there.
Taxis are available for those who don't want to walk and it takes 10 minutes. Taxi price is about 200.000VND – 250.000VND (10-12 US$).
Motorbike taxis are a fun way to get to Sapa cable cars too if you want some bike adventure.
Form March/ 2018, it is more convenient to take Muong Hoa mountain train connecting Sapa town with the station of Fansipan cable car. It takes 4 minutes instead of 10-15 minutes by car on the rugged mountain road. The price ticket is 200,000 VND / adult (10US$), 150,000 VND / child 1m-1m3 (8 US$). Buy both a train and cable car tickets, you will be discounted of 50,000 VND / ticket, and get a meal coupon at Van Sam restaurant at the cable car station. 
Sapa Mountain Climbing Train
3.3. Mountain train Muong Hoa
Starting from Sun Plaza (Sapa town center) to Sapa station (Muong Hoa station), if you take the Muong Hoa mountain train, you don't have to take a taxi to Sapa station but still admire the majestic panorama view of Muong Hoa Valley.
Muong Hoa mountain train tickets cost 200,000 VND per person/round trip. Train runs continuously so you do not have to spend much time waiting.
The train station is designed in a European style, quite spacious with beautiful corner, making it great place to have some best pictures in Sapa.
3.4. Do Quyen mountain train
From Fansipan Station to the peak, you need to climb up 600 stairs.
For those who are in good health or on the good weather, this would be no problem.
But with the elderly or visiting in a windy day, you should choose Do Quyen mountain train to get to Fansipan peak.
Depending on the situation, you can buy one-way or round-trip ticket. Ticket price is 100.000/time with 1 minute ride.
This would save time as well as keep you in a good health to visit other attraction nearby such as Lower Temple, Upper Pagoda and the beautiful road of Do Quyen flowers on top Fansipan.
4. Fansipan Cable Car Ticket Price
You can easily buy Fansipan Cable Car ticket directly at the station.
Ticket prices for Fansipan mountain cable car 2019
Adults: VND 700,000 / person (35 US$).
Children 1.1m-1.3m in height : 500,000 VND / person (25 US$).
Children below 1.1m in height: Free
Notes with Fansipan Cable Car Ticket
+ Those prices are for both ways.
+ No worry if you don't really know the height of your children. There is a measure at ticket point.
+ The tickets are for both way to go and return so make sure you keep them somewhere safe and handy.
+ Tickets are only valid within the day of purchase so don't buy tickets beforehand.
+ On holidays or weekend this Fansipan cable cars are filled with tourists meaning you may have to queue for a few hours to buy tickets and get on the cars.
Tips:
If you are in a big group or visiting Sapa in the peak season, you can book in advance with local operator or hotels without having to queue in a long line.
If you travel with a small group or in the low season, you can buy tickets directly at Sun Plaza, right in the center of Sapa or Sapa station.
Plus point for buying directly is that you can get a discount voucher for food services in Fansipan Legend. Besides, you will be guided more detailed how to buy the train ticket economically.
Now you can purchase cable car tickets quite fastly and easily.
Stunning view of Muong Hoa valley from the cabins of Fansipan Cable Cars
5. Note to have a great Fansipan cable car trip
5.1. Difference in altitude and temperature
Unlike trekking, the difference between the two terminals is 1410m and it only takes about 15p to cable up to this height.
So when the cable car to Fansipan station, you will have tinnitus and a slight elevation shock because the body has not adapted to the new height.
The best way to reduce this effect is to take a deep, steady breath. In addition, you should also bring towels, warm sweatshirt because the temperature on the top is lower and the wind is also stronger.
If you have trouble breathing or have abnormal symptoms, you must contact the station staff immediately for medical assistance.
From the destination station it takes about 600 more steps to get to the peak of Fansipan. And those steps are quite stiff so make sure you wear some good walking shoes. The walking to the top can take about 30 minutes.
5.2. Temple system in Fansipan
Fansipan Sapa have temple system, you should wear discreet and polite clothes when you go to spiritual and sanctuary place.
Step out of Fansipan Station, you will immediately go to the Temple of Heaven (Thanh Phong Thien). At this point, you can write a prayer for yourself and your family.
During the 600-step climb to the top of Fansipan, from Lower Temple to Upper Temple, you can also listen to the meditation music which is very pleasant, feeling like entering the Buddha realm.
Do not forget to visit the statue of Amitabha Buddha, the highest bronze statue in Vietnam (21.5m), which is considered the symbol of Fansipan spiritual culture.
There are also Kim Son Bao Thang Tu, the Great Bao Dai Palace with many statues of Buddhas created by the monk, monolithic 11-storey monolithic stone, the Arhat Road with 18 bronze statues of Arhat, the two sides are Do Quyen flower blooming.
Along with that, there are many typical Buddhist works such as Bich Van Thien, Bodhisattva Avalokitesvara statue, bell tower – Vong dao tower, Son Than shrine …
5.3. Food center in Fansipan Legend
Come to Fansipan Legend, you can experience and enjoy food at Do Quyen Restaurant (at Fansipan Station) and Hai Cang Restaurant (at Sapa Station).
The restaurants and coffee shops here offer a variety of European and Asian dishes, specialties of Sapa such as lợn cắp nach (special pork), salmon hotpot, grilled fish and many other regional dishes at affordable price.
The difference in taste of food at Fansipan Legend is not only in the level of brand and taste of each dish, but also in the space of elegant French architecture blended with North West culture style in each detail.
5.4. Van Son Tea House
On the same 600-step route to Fansipan peak, near the Lower Temple, you will go across Van Son Tra Quan. (Van Son Tea House) .
This place has a design that reminds you of Tru Vu Tea House in Ba Na Hills with style of tea ceremony. This place is surrounded by clouds, you can enjoy a cup of hot tea, watching Do Quyen flowers and find your inner self.
5.5. Who should not take the cable car?
People with respiratory and heart problems, or afraid of heights should be encouraged not go to Fansipan by cable car to ensure the health. Up to Fansipan's peak, the air is very weak, you should rest for the body to adjust to the temperature and climate.
5.6. The provisions of the cable car:
– You do not carry toxic chemicals, explosive materials and prohibited substances to the cable car. – Do not bring food from outside to the cable car (you can carry a little water). You can use the services available at the cable car.
– In the cabin, you are stable and do not move when the cabin operate (especially with children). During operation process, There will be wind that shake the cars. Cable cars can stop for a quick moment. No worry, that is only to add more flavor to your trip!
>> Book imediately Conquering Fansipan By cable car tour with us right here. Only 8 slots with 10% discount for this November. <<<
Video view from Fansipan mountain cable car
Below is some images and feedback of our customers after experiencing our service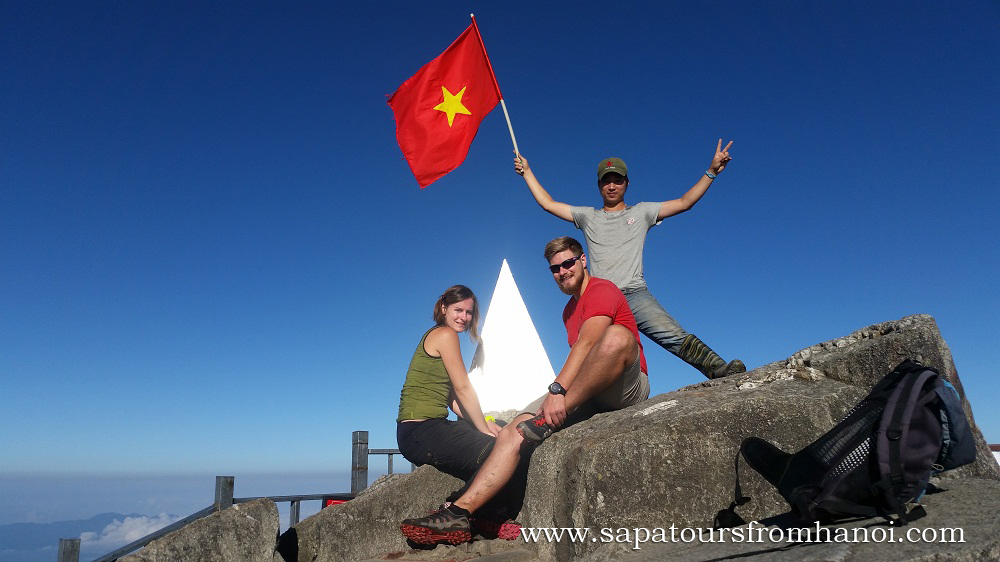 With the experience that we share, hopefully the visitors can get the perfect journey of discovery the Roof of Indochina.