To Sapa from Hanoi, there are many ways for you to make this trip. However, travel by train is considered to be the most popular way.
There are both daytime and overnight sleeper trains between Hanoi & Lao Cai, and on the sleeper trains you can choose between the normal Vietnamese railways sleepers or a whole series of privately-run sleeping-cars of a higher standard aimed at tourists. The daytime route offers only hard seats, whereas travelers can enjoy soft-sleepers, Air-conditioned, four-berth cabins on the night trains….
One note that: To Sapa from Hanoi by train, it wil only  stop in Lao Cai Station. Because Sapa has no railway station. It's about 38 km (24 miles) from Lao Cai railway station to Sapa. You continue reached from there by bus, jeep or taxi in about 50 minutes.
However, if you book  Sapa tours with our company, you do not need to worry about this. Because when you arriver Lao Cao Station about 6:30 am, Our driver and guide will wait for you there. They will take you to Sapa. 
And this is our tour package that many visitors choose. So, you can refer : 
Super Quick Halong Sapa Tours – 4 days: http://sapatoursfromhanoi.com/tour/hanoi-sapa-halong-bay-4-days/

If you want to learn about the best trains to Sapa from Hanoi. Please read our post:  "Top 5 Overnight Trains To Sapa From Hanoi: Budget to Luxury".
Sapa Tours From Hanoi gives you 10 different kinds of trains from Hanoi to Laocai. But there are five best top night train:
1-VICTORIA EXPRESS
Victoria Express Train is the most luxurious train from Hanoi to Sapa. The Victoria Express Train features two sleeping carriages. Each sleeping carriage has 6 superior cabins ( Deluxe 4 berths) and VIP 2 deluxe cabins (2 berths), all are air-conditioned, wood paneled, with individual reading lights, baggage storage, toilets and oversized windows.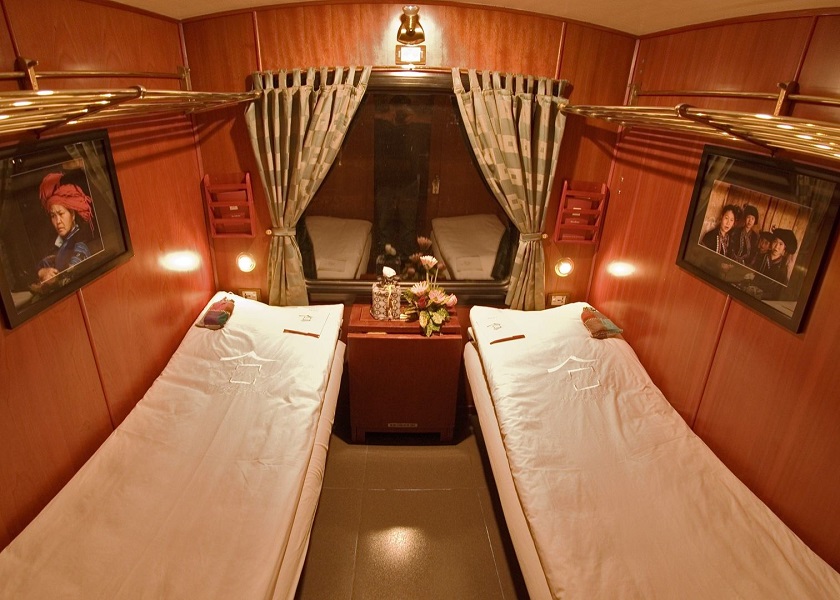 Victoria Express Train carriages are outstanding with modern and convenience facilities, offer every visitor a wonderful travelling experience.
In addition to those features, visitors also have the opportunity to enjoy the traditional delicacies of Vietnam as well as Western gastronomy at its restaurant "Le Tonkin". Best-tasting glasses of wine will be selected by the talented chef to contribute a memorable imprint on your dining times. On routes with dining carriage, a-la-carte menu or 4-dish set menu is available to bring out the best dining experience on train by pre-ordering when buying tickets.
2-SAPALY TRAIN
Sapaly Express Train is an excellent train service operated by Sapaly Hotel. Being launched in 2010, with having well-decorated and fully-equipped cabins, Sapaly Express Train promises to bring passengers an enjoyable trips from Hanoi to Lao Cai. Passengers can truly enjoy a wonderful sleep in the train as they are in a superior hotel.
Each cabin has four comfortable and spacious beds with wooden furniture, soft pillows, blanket, graceful curtain, warm light system, and most modern facilities.
What Sapaly Express Train does bring tourists is a lovely remisniscence of Sapaly hotel with cabins of 3-star standard. Each carriage is designed only for 6 cabins instead of 7 cabins as usual, so each cabin is sure to be more spacious. Those cabins are bound to bestow on passengers a nice stay with deep sleep. Especially, Sapaly VIP 2 berth cabins are designed to dedicate to couples whose privacy is cared and placed on top of priority.
3-ORIENT EPXRESS
Orient Express train is designed according to modern style, the air-conditioned, the comfort facilities of the wood-panelling cabins will make visitor feel very close and cozy. It is called Deluxe cabin, 4 berth or 6 berth.
So, Orient Express is among a few brand that be able to provide diverse kinds of cabins for guests to choose. A group of family members or close friends may find themselves fit in so well in a 6-berth cabin or a 4-berth one to stay through the night with collective joys. Whereas, couples might prefer a more private and tranquil atmosphere dedicatedly brought to them by the VIP 2-berth cabins.
Each berth is equipped with individual reading lights, baggage storage and spacious trunk for suite case and hand luggage. These cabins are designed to for those who desire to have the privacy with remarkable interior decor.
4-CHAPA EXPRESS
Chapa Express Train is one of the newest train in Vietnam, foundation by National Petrol Corporation and People's Committee of Lao Cai province on April, 2013. But till June, 2014, Chapa Train just began to run Hanoi – Sapa – Hanoi route officially with the new coaches, luxury furniture and all conveniences. Chapa Train has one coaches (each way) with 07 cabins designed the wood-paneling cabins, air-conditional, reading lights, specially is mattress will be remove after each journey. On Chapa Train, WC is so clearly and separate in end of coach. First-aid box and Hot-Water heater will be served free on board. Staff team of Chapa train trained about language and skills, they can help you until you leave train. Each passenger has drink, snack, cold towel, toothpaste with free in your cabin.
5-KING EXPRESS
King Express is a Sapa overnight train which transporting passengers Hanoi – Lao Cai – Hanoi.
On each carriage of King Express, there are 26 berths which are grouped into two types of cabins, including Deluxe cabins with 4 berths and Private Deluxe cabins with 2 berths. For groups of travelers or families, Deluxe cabin will be the second-to-none option where they can all experience the joyful vibe through the night. Meanwhile Private Deluxe encompasses more privacy and intimacy to single or couple on their way. Large windows overlooking the picture-perfect landscape of Northwest region, air-conditioned space paneled with wooden materials, free bottled water, refreshing wipes, and private toilet at the end of each carriage are some of what's included. King Express Train has a fixed daily schedule going to and fro between Hanoi and Lao Cai. The fast train SP3 will set off from Hanoi at 9.50 PM and reach Lao Cai at 6.30 am the next day. The route back to Hanoi with SP4 fast will start from 8:20 PM and arrive in Hanoi at 6.00 am the following day.
With these suggestions of Vietnam Typical Tours, you can completely refer to the ticket price by address:
SAPA TRAIN  of Vietnam Typical Tours.