A holiday in Vietnam, Are you waiting for something great ??? Do you want to have a trip to explore the beautiful wonders ? A trip is not just relaxation but more than that you can improve your knowledge?
Here are: Top 3 Natural Wonder of Limestone in Vietnam
#1. Halong Bay – One of the great natural wonders of the world.
A Ha Long Bay tour from Hanoi certainly will not make you disappoint. Because, Halong Bay Vietnam recognized repeatedly as the natural wonder of the world by UNESCO and is famous for thousands of islands, beautiful beaches, resorts and historical monuments. Because of the wonderful view, is is an ideal place for domestic and international visitors to explore the marvels of nature.
It is bounded by Cat Ba Island to the southwest, the sea to the east, and the mainland with a 120 kilometer – long coastline to the west. The total area of this bay is 1,553 square kilometers, consisting of 1969 islands having various sizes. The region is especially acknowledged as the world heritage that covers 434 square kilometers and comprises 775 islands.
In general, Ha Long Bay maintains its beauty and splendour throughout every season. Sitting on the small sailboat and letting water flux lead you to the Surprise Cave, Paradise cave, Human Head island, the floating village etc and of course, exploring the locals live here are always in the must-see-and-do list. Afterwards, visitors can relax a bit by swimming, sunbathing or even enjoying the kayaking just around the corner of Luon Cave, and so on.
So,  this trip  would be your great opportunity to enrich your knowledge !
#2. Tam Coc  – Bich Dong –  known as "Halong Bay on land".
Tourist resort of Tam Coc – Bich Dong is a natural area about 350,3 ha, located 2km from new National Highway 1A, 7km from the Ninh Binh city, 9km from Tam Diep town .
Tam Coc – Bich Dong also is known for famous names such as "Ha Long Bay on land". The entire of region includes the system of limestone caves and historic sites related to Tran Dynasty located mainly in Ninh Hai Commune, Hoa Lu, Ninh Binh.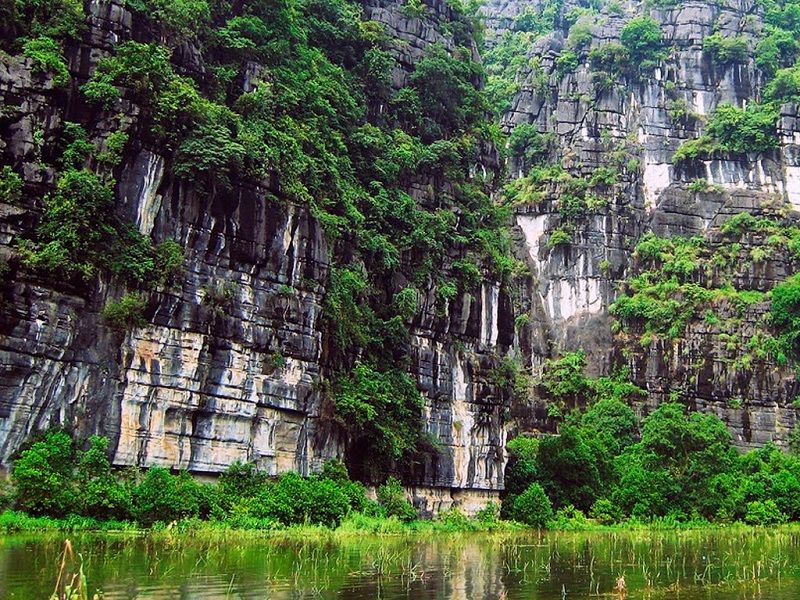 The natural landscape of Tam Coc runs in a small rowing boat plying the River Ngo Dong, where in addition to the impressive landscape we can also contemplate the rice fields. This zone of Vietnam has more than 350 hectares (including Tam Coc and Bich Dong). Undoubtedly the most impressive of Tam Coc are rice fields when at its best, with a bright green with yellow, ending in the beginning of the cliffs of the rock formations.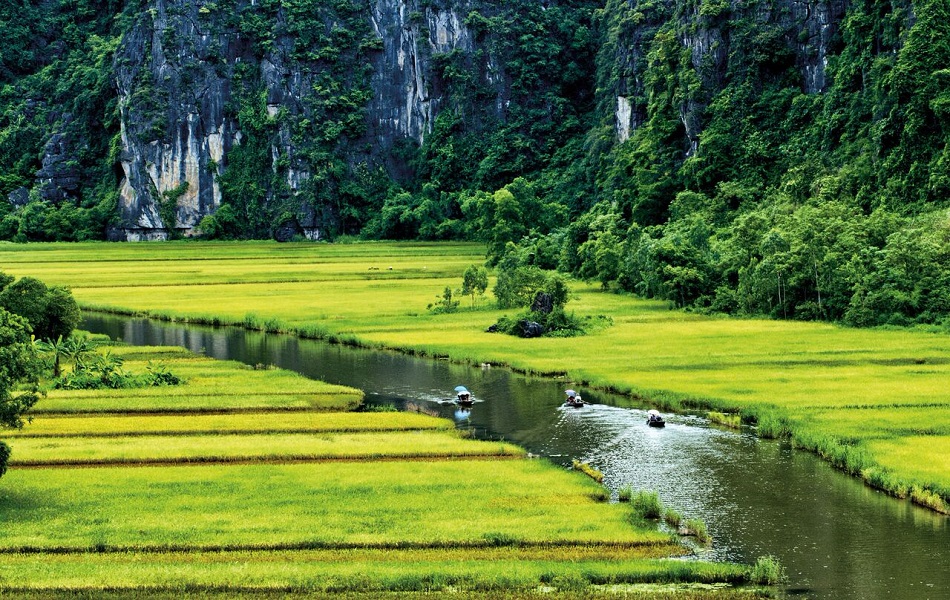 Area known as Tam Coc Bich Dong is a beautiful natural setting close to the Ngu Nhac mountain, where there is a cave and also stands a 15th-century Pagoda (year 1428) that goes back to the era of the dynasty Le. Bich Dong means Pearl green.
So, if you do not have a lot of time, a adventure tour in Ninh Binh 2 days is also very OK ???
#3.  Dong Van Rock Plateau – as one of 77 geological parks in the world.
Like Sapa, the most renowned attraction of Ha Giang are the many grandiose mountains. Although mountains here are not as high as Sapa's mountains and seem not to be steep enough to challenge adventurous climbers, they stand out for extensive area of limestone with unique formation of peaky rocks.
The most famous rocky area of Ha Giang is Dong Van Rock Plateau, which is recognized by UNESCO as one of 77 geological parks in the world. Lung Cu hamlet lying inside Dong Van Rock Plateau is another indispensible destination as it marks the very northern tip of Vietnam by Lung Cu Flag Tower on Dragon Mountain.

Not only that, Ha Giang is a venue of fanciful natural caves such as Phuong Thien Cave, Chui Cave, Fairy Cave and Swallow Cave. Although all the caves offer wonderful scenery with fantastic shapes of stalactites, each one has its own story and traits. For example, legend says that fairies used to bath in Fairy Stream inside Fairy Cave which is the source of its name.
Ha Giang is also well-known for its magnificent forests in which there are more than 1,000 species of good woods, drug trees as well rare animals like tigers, peacock or pangolin.
And if you are a person who likes adventure and conquest. Ha Giang – a perfect destination for your adventure tour in Vietnam.