With many famous destination, Vietnam is one of those countries that never ceases to amaze its travelers. Because each destination in Vietnam gives the visitor its own appeal.
With so many things to see and do in Vietnam, planning your travel itinerary as a first-time visitor can be a challenge, so we've compiled a general list of Things to do in Vietnam.
The list of things to do in Vietnam is very impressive, for it really does offer something for all sorts of tourists. And Vietnam Typical Tours also believes that this is a meaningful post that visitors are looking for.
1. Take a street food tour in Hanoi Old Quarter
In Hanoi the food is plentiful, street food can be found on the main streets of Hanoi and down many of the side streets and alleways. You can also find places to eat in between residences with many kinds of businesses.
Hanoi is also very proud to land is one of the top 10 cities famous for street food by a famous newspaper in the United States voted.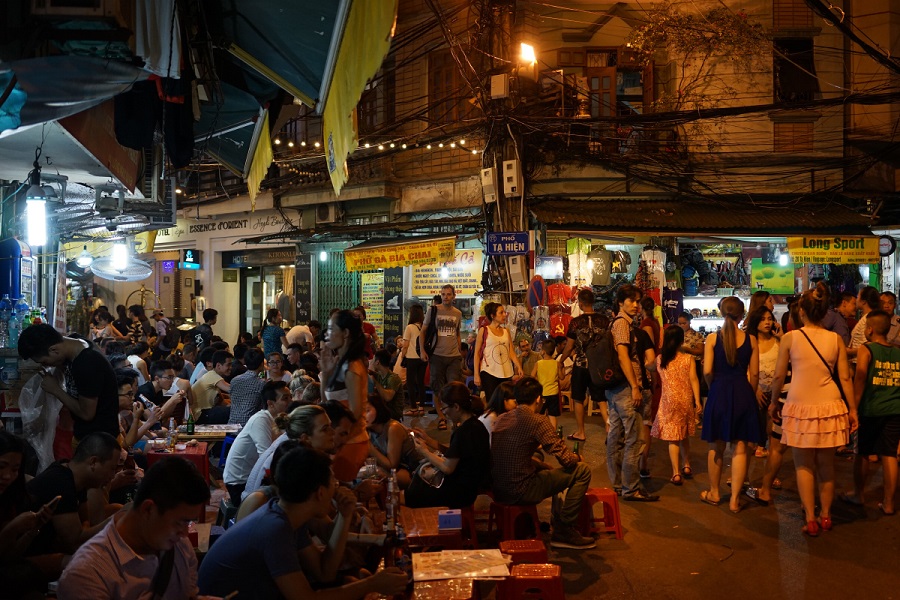 So,Your first advice when coming to Vietnam is: take a street food tour in Hanoi Old Quarter. Wander the streets, discover the origins of the names of the streets and enjoy the famous dishes: burgers, Xeo Cake, Banh Trang Tron, …. An idea is not bad.
2. Trek through Hill Tribes' village in Sapa
Sapa is a beautiful place, home to Vietnam's highest peak, Fan Si Pan, which tickles the clouds 3143m above sea level, keeping watch over the terraced rice paddies that line Sapa's steep valley walls.
This is also home to several ethnic minorities, chiefly the H'Mong, the Dao and the Dai…
So, Sapa becomes inspiring landscapes and colourful cultures. It is a photographer's mecca, an explorer's playground and many travellers' favourite place. Sapa is also renowned for its trekking and has historically been an escape from the heat and humidity of Hanoi.
A trekking tour to popular tourist spots include: Cat Cat village, Taphin village, Lao Chai village, Tavan village, Ban Ho village and Bac Ha market…. It will be a great opportunity for you to immerse yourself in nature and learn about the customs of the people here.
3. Sail overnight on Halong Bay Cruise
Set sail among the thousands of limestone outcrops that rear up from the emerald waters of Halong Bay on a traditional wooden junk. Enjoy a night on board under the stars and a sunrise tai chi session on deck.
This is a meaningful activity for you to explore Halong Bay – the natural wonder of the world.
4. Visit Hue Imperial Citadel
This sprawling complex in Hue was where the Emperors of old would have lived and conducted all their business. There was even a part of the citadel known as "The Forbidden Purple City," which, much like China's Forbidden City, was reserved for only the most important people in Vietnam.
Set up by Nguyen Dynasty from 1805 to 1945, The Citadel Complex of Hue is now one amongst the relics of the Hue ancient Capital – the World Cultural Heritage, capturing much of tourists' attention.
If you are people love history, love to find works of unique architecture. Why do not you book a tour of the Hue Citadel ? Taking a The Citadel Complex of Hue, you will surely more or less love the traditional and classical side of Vietnam.
5. Learn a cooking class and enjoy a walk tour in Hoi An
Being a World Heritage Site declared by UNESCO, Hoi An is favored with beautiful sites, hospitable people and especially amazing sense of taste – the beauty that cannot touch but feel in the tongue.
The best way to feel about Hoi An is to join a cooking class and enjoy a walk tour in Hoi An. This is my only advice for you when talking about Hoi An.
6. Take a excursion to Cu Chi Tunnels & Cao Dai Temples
The Great Holy See Temple was built in 1926, and is considered one of the most striking structures in all of southeast Asia. The center of Cao Dai faith, a religion that blends Buddhism, Christianity, and Confucianism, Cao Dai Temple is an experience not to be missed, especially during the colorful noon-day mass held by Cao Dai followers.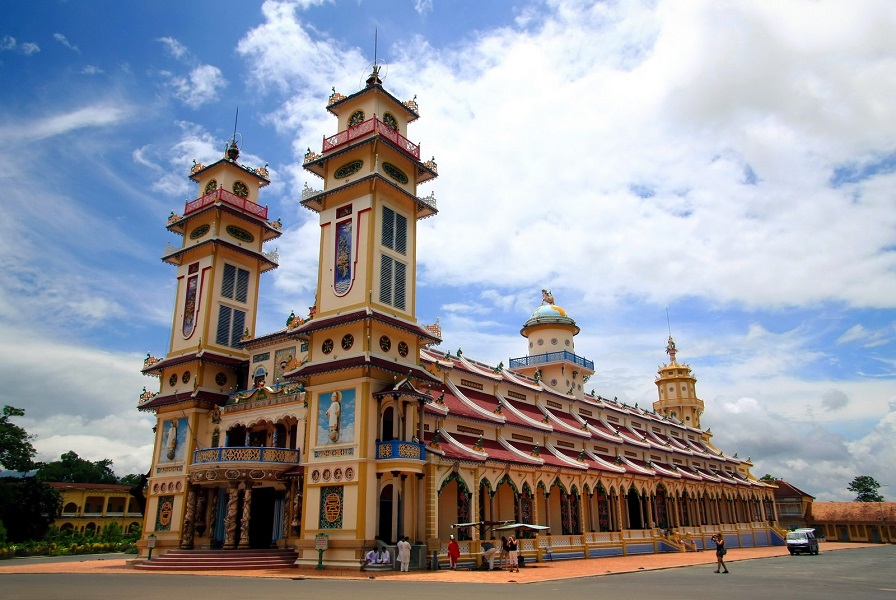 Continue to the Cu Chi Tunnels. Located 36 miles (60 kilometers) from Ho Chi Minh City. In their heyday, the extensive tunnels were functioning underground cities, including numerous trap doors, specially constructed living areas, storage facilities, weapons factories, field hospitals, command centers and kitchens.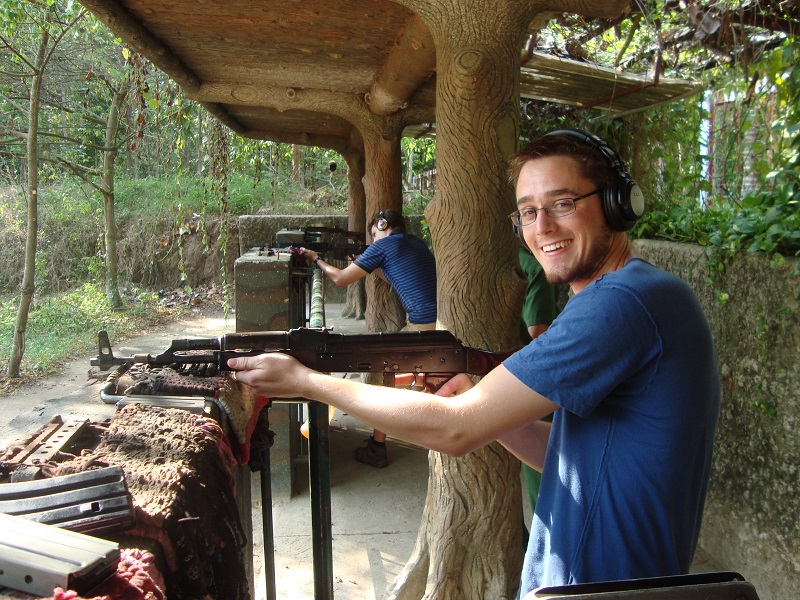 It would be a pity if you missed out on these two important destinations.
7. Bike & boat in the Mekong Delta River
You are too familiar with car or train tours. So, please refresh your journey with a bicycle tour  or boat tour at in the Mekong Delta River.
Cycling through fields with so peaceful scenes, lush fields … Or sit on the boat floating through the canals, rivers .. enjoy the beauty of the landscape here are a really great experience to refresh yourself.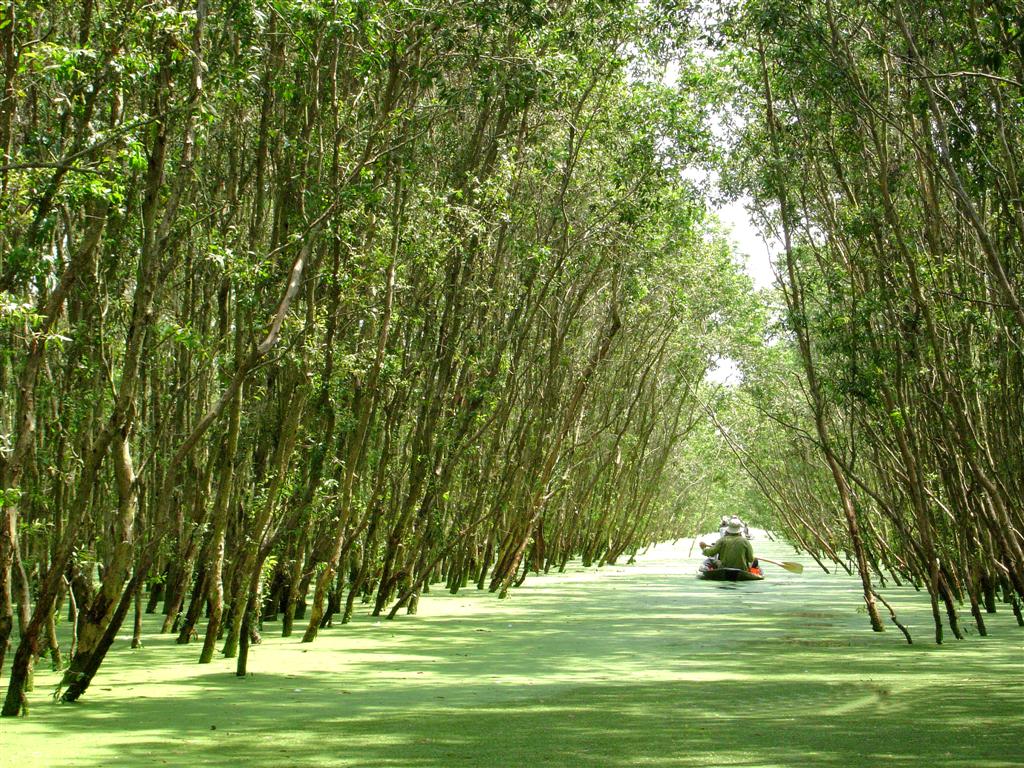 These are our suggestions for visitors about things to do when coming to Vietnam. And do you think that will incorporate all these activities in a tour in Vietnam ? Why not ???
 Please refer to our 12-day Vietnam tour package. A great journey to explore Vietnam from north to south.
See detail this tour at: http://sapatoursfromhanoi.com/tour/discovering-vietnam-12-days/