In 2013, the American online newspaper Hurrington Post released an article introducing 5 most popular and beautiful destinations in Vietnam.
They include terraced fields in Sapa town, Lao Cai province, mountains and forests in Ha Giang, Ha Long bay in Quang Ninh, beaches in Nha Trang city, Khanh Hoa province and sand dunes in Mui Ne, Ninh Thuan province.
Sapa with terraced rice fields
The terraced rice fiels are masterpieces created by human hundreds of years ago. They are both the food source of ethnic groups of Ha Nhi, Tay, Mong, Dao… living around mountain slopes and specific tourism product of Vietnam.
The American magazine Travel and Leisure used to praise Sapa terraced fields as one of 7 most spectacular terraced rice fields in the world. In the development of traditional agriculture, Sapa has it own unique cultivation exploited and created by ethnic people at 700-1.500 m high above sea level.
In autumn, Sapa welcomes a lot of international tourists. They flock to Sapa to admire yellow fields in harvest season and experience homestay serivice with local families. Recently, Ministry of Culture, Sport and Tourism has officially recognized Sapa terraced fields as national landscape.
So, a Sapa Tour from Hanoi is a wonderful idea !
Ha Giang – destination for exploration lovers and adventurers
Ha Giang is a mountainous province in the North of Vietnam. Coming to Ha Giang, you will be amazed at majestic natural scenery. In spite of difficult trail, the scenery on the way from Dong Van to Lung Cu is so poetic that it is inspiration for many artists, poets and composers.
As for exploration lovers and adventurers, Ha Giang is an attractive destination of Vietnam throughout tours.
Ha Long Bay – As one of new seven natural wonders
As one of new seven natural wonders, Ha Long bay is obvious to be referred to as most scenic destination in Vietnam.
Ha Long bay becomes an exotic landscape with thousands of limestone and schist islands of all shapes emerging from the se. They are mainly located in the Southeast of Bai Tu Long bay and Southwest of Ha Long bay.
According to statistics conducted by Management Board of Ha Long bay, Ha Long bay has 1,921 rock islands out of 1,969 islands and 989 of which have been given names.
Viewed from above, Ha Long Bay resembles a dragon hovering above the turquoise water. That is the reason why the bay was named Halong (Descending dragon).
Nha Trang – Coastal city
Blue sea, crystal sands, bright sunlight… are what people often describe Nha Trang.
With a coastline of about 40 km and more than 200 large and small islands, foreign magazines compared Nha Trang bay as "Miami of Southeast Asia" due to prominent features: green nature, cool and dry climate all the year, friendly and easygoing people…
NhaTrang is member of the Most Beautiful Bays in the World Club and favourite destination of many international tourists. Nha Trang was selected as most peaceful and friendly destination in Vietnam.
Mui Ne
Mui Ne sand dune or Bay sand dune is described as one of mobile sand dunes stretching several kilometers and spreading a very large area. The most beautiful destination is located at the street from Phan Thiet to Mui Ne, opposite Fairy Stream and HuongTra restaurant.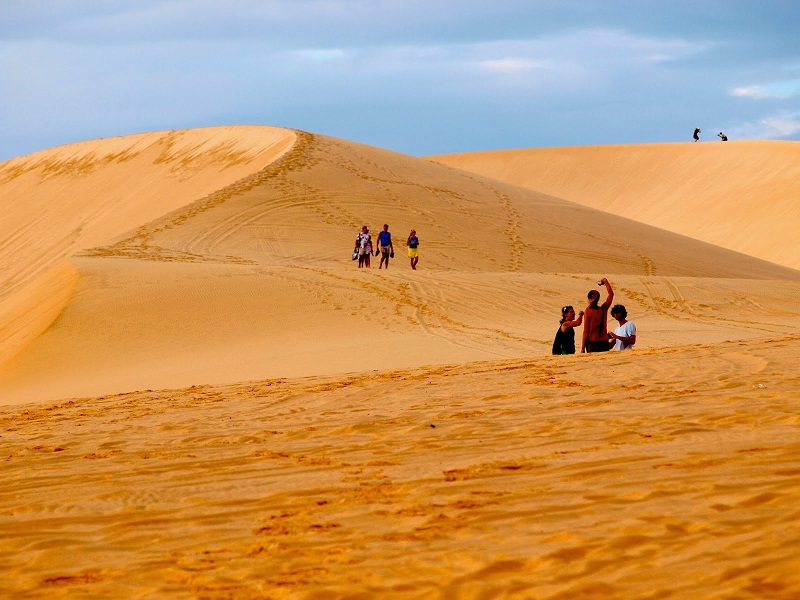 Mui Ne is overwhelmed with sands. Sands appeare everywhere you go. It is strange that the color of sands constantly changes in only one day. No matter who you are, adults or children,you will like to climb up the sand dunes, scream loudly and laugh with sand slide game.
So give yourself a great holiday in Vietnam with these famous destinations. It will be very interesting !